We use a variety of manmade and natural fibers, but cotton is the main natural fiber used to make our products.
We don't buy any raw materials directly - including cotton - our suppliers and their approved factories are responsible for sourcing materials. But we care deeply about where the materials used to make our products come from.
This issue is so important for us that we've committed to making all our clothes using recycled fibers or more sustainably sourced materials by 2030.
Spotlight on cotton
From pajamas to T-shirts, baby onesies to jeans, towels to bedding, cotton is a key natural fiber we rely on to make our products. That's why we're committed to bringing more sustainably sourced cotton to customers at affordable prices.
So what do we mean by sustainable cotton? For us it's cotton sourced through our Sustainable Cotton Program and grown using more natural and regenerative farming methods, including reducing water, pesticide and chemical fertilizer use and training farmers in these methods. But that's not all – we want the cotton we use to improve the livelihoods of the farmers who grow it, by increasing the income earned from cotton production.
We're stretching ourselves - setting ourselves the goal of making sure all the cotton used in our supply chain is organic, recycled or sourced from our Sustainable Cotton Program, without passing the cost onto our customers.
Our Sustainable Cotton Program
Cotton is often grown by farmers on small farms in rural communities in countries including India and Pakistan. These farmers have little knowledge of environmentally-friendly farming methods, and there is little to no access to support or formal training. That's why we teamed up with agricultural experts CottonConnect and the Self-Employed Women's Association in 2013 to create the Primark Sustainable Cotton Program.
The program launched with 1,251 female farmers in Gujarat, India. Since then we've seen transformative results. The quality of cotton has improved and on average, farmers who have completed the three-year training program have increased their profits by over 200%. Many of the farmers have used their increased profits to invest in equipment for their farms, educate their children, or improve their housing and lifestyle.
The program has now expanded into other countries, including Pakistan, where we're working with CottonConnect and a local partner.
Overall we have now committed to train 275,000 farmers by the end of 2023, equipping them with the knowledge and means to grow cotton using more sustainable farming methods.
In 2017, we started to use the cotton from the program in one of our most popular collections – women's pajamas – at no extra cost to our customers. Since then we've been increasing its use year on year, as we work towards our long-term ambition of making sure that all the cotton used in our supply chain is organic, recycled or sourced from our Sustainable Cotton Program. We now have whole collections including sleepwear, denim, T-shirts and homeware, all made from cotton grown by farmers in our program.
Kanchanben is a 40-year-old female farmer who was trained through the Sustainable Cotton Program in India. She grows cotton on six acres of her land. Through the program, Kanchanben has halved the amount of chemical fertilizer she uses and increased her cotton yield. As a result, she has made more money, which she has since invested in her children's education.
Forensic science and the supply chain
The cotton supply chain is notoriously complex. When we started the Sustainable Cotton Program in 2013, ensuring traceability from farm to store was one of our ambitions. We work with CottonConnect to trace cotton from the participating farmers all the way through our supply chain. We are able to segregate the cotton through the supply chain and track it using CottonConnect's proprietary system, TraceBale. Given the complexity surrounding traceability, we wanted to go the extra mile to make sure that when we say a product is made using sustainable cotton, grown by farmers in our program, it really is, which is why we also partnered with Oritain.
Oritain uses forensic science to identify the original source of the cotton and validate the information on the TraceBale system. We were one of the first retail chains to partner with Oritain and the only one to use this technology at such scale.
To identify the source of the cotton, Oritain uses the same forensic science that's been used in criminal investigations for more than 40 years, to test what exists naturally in a product. Cotton naturally absorbs different levels of chemical elements specific to the local climate and geological conditions it's grown in. Oritain tests the differences in these elements and uses the data to create a unique "Origin Fingerprint" that can't be replicated.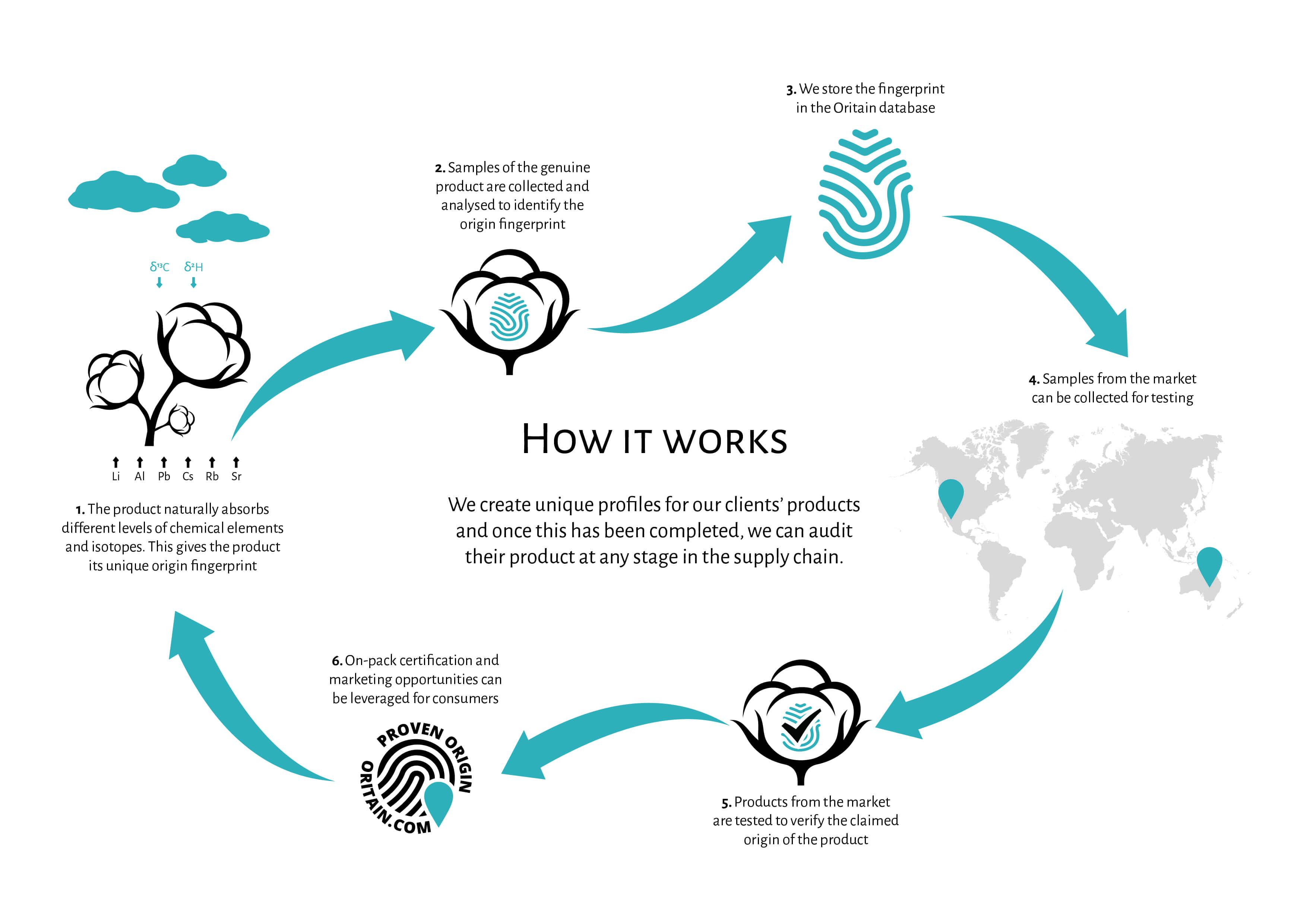 To date, Oritain has mapped more than 90% of the world's cotton in a database. Fabric and yarn can be tested against the genuine "Origin Fingerprint" stored in the database to see if they match. If they do, the materials are identified as authentic; if they don't, it suggests the product may have been sourced from another region or contaminated. Oritain can test cotton against the database at virtually any point of the supply chain, from raw cotton to a pair of jeans, providing transparency to us and our customers. We've worked with Oritain since 2018 to validate samples taken at various stages of the supply chain – from the farms themselves, when the cotton has gone through the ginning process, and subsequently after the spinning process.
This gives us and our customers confidence in the source of our cotton, and comfort in the knowledge that when we say something is made with sustainable cotton grown by farmers in our program, it really is.