Primark Cares
Primark announces half-year progress in its Primark Cares sustainability commitments
39% of all Primark clothes are now made from recycled or more sustainable materials, up from 25% in September 2021
One-third of the cotton used in Primark clothes is now recycled, organic or sourced from the Primark Sustainable Cotton Programme, up from 27% at launch
Primark has trained some 150,000 farmers in more sustainable farming practices
Primark has published early progress against some of its sustainability commitments seven months on from the launch of its strategy, Primark Cares. Today, almost 40% (39%) of all Primark clothes are made from recycled or more sustainable* materials, a 14% increase from September 2021, strong progress towards the target of 100% by 2030.
Building on over a decade's work to become a more sustainable business, Primark accelerated its ambition last year with the launch of its Primark Cares strategy, a series of wide-reaching commitments across its products, planet and people. This ten-year programme aims to reduce the impact its business has on the planet; improve the livelihoods of the people who make its clothes and end fashion waste – with the ambition to make more sustainable choices affordable to all.
Primark has also made good progress in its sourcing of cotton. With over half of all clothes sold at Primark made from cotton, one-third of this cotton clothing is now recycled, organic or sourced from the Primark Sustainable Cotton Programme, up from 27% at the launch of Primark Cares. The commitment is to reach 100% by 2027. Currently 27% of all our cotton clothing is sourced from our Programme, an increase of 13% from launch.
Primark's Sustainable Cotton Programme continues to play a fundamental role in this as Primark continues to grow the programme, the biggest of its kind in the industry. Nearly a decade since it began in India, we have now trained nearly 150,000 farmers in more sustainable farming methods across India, Bangladesh and Pakistan, and are well placed to reach its target of 160,000 farmers by the end of 2022.
All of these products can be easily found by customers in stores by looking for the blue heart of the Primark Cares label, located across all departments from denim to duvets, tee-shirts to towels across women's, menswear, kids and homeware.
Commenting on the progress, Lynne Walker, Director of Primark Cares said:
"Our Primark Cares commitments are far reaching and require transformational changes within our own business and in how we work with our suppliers. We have been working hard since launch to put these changes in place.
"Change at this scale takes time so I am pleased with the progress we are making – in particular how we are already managing to deliver good progress on our ambition for all our clothes to be made from more sustainably sourced or recycled materials by 2030."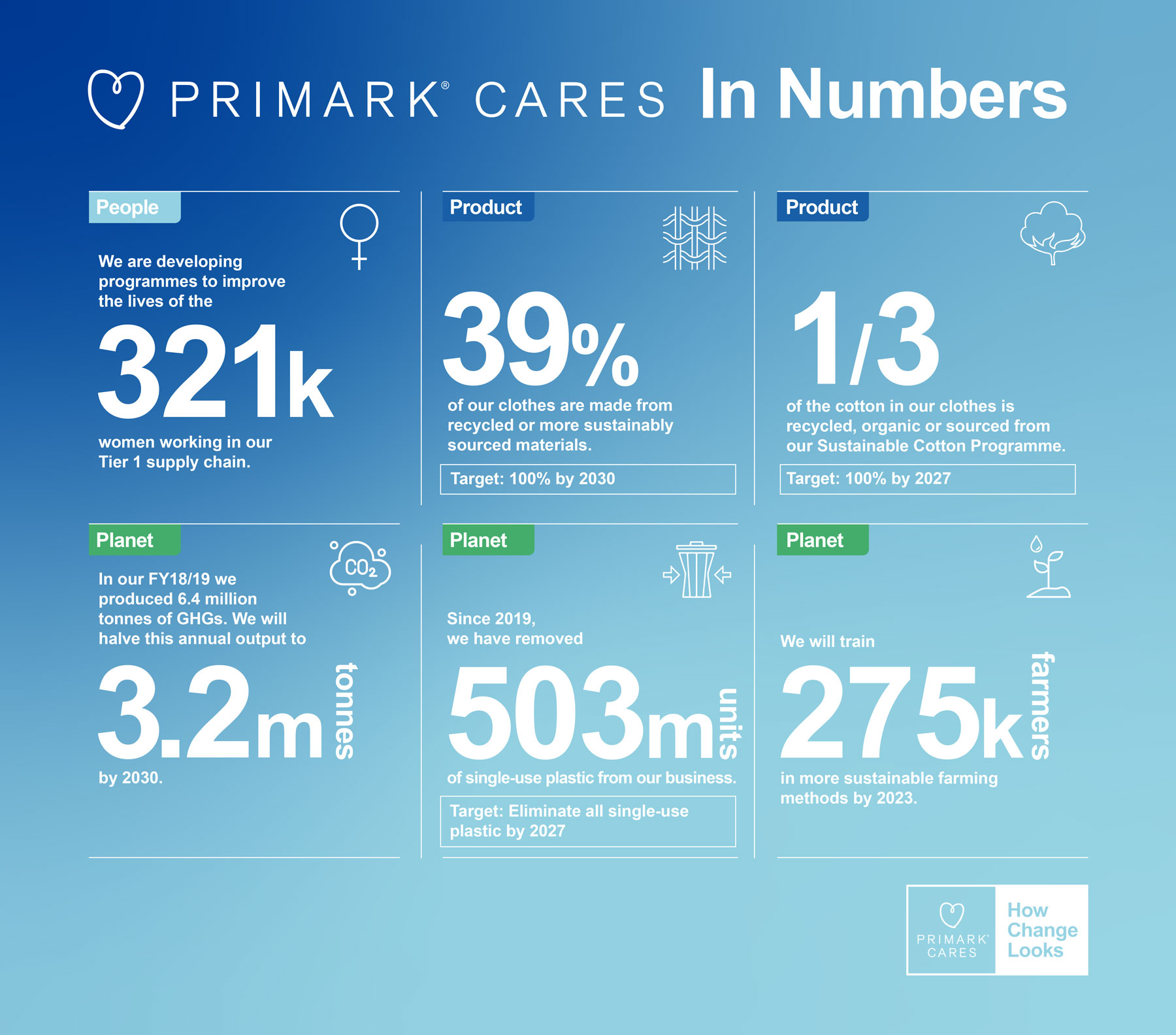 ENDS
*Sustainable means reducing our impact on the environment – such as reducing the amount of water used during production; limiting our reliance on virgin resources by using waste materials which could otherwise end up in landfill and using less chemical fertilisers and pesticides.
Primark is using its global scale and reaching across its entire supply chain and its own operations to action the new strategy with nine key commitments, through three key areas. These are:
Giving clothes a longer life - We will become a circular and more sustainable business.
Affordable clothes designed to last - We will strengthen the durability of our clothes by 2025.
Clothes that can be recycled - Our clothes will be recyclable by design by 2027.
Clothes made of recycled fibres - All our clothes will be made from recycled or more sustainably sourced materials by 2030.
Protecting life on the planet - We will nurture nature, halve carbon emissions and eliminate waste.
Halve our carbon footprint - We will halve carbon emissions across our value chain by 2030.
Eliminate non-clothing waste - We will eliminate single-use plastics and all our non-clothing waste by 2027.
Restore biodiversity - Our Sustainable Cotton Programme will train farmers to use more regenerative agriculture practices by 2030.
Improving people's lives - We will protect and improve the livelihoods and resilience of the people who make our clothes.
Create financial resilience - We will pursue a living wage for workers in the supply chain and support them with financial literacy training and access to social protection by 2030.
Promote equal opportunities for women - We will strengthen the position of women across our supply chain through skills development and addressing their barriers to progression by 2030.
Improve health and wellbeing - We will ensure access to effective grievance processes for workers in the supply chain and widen access to help for mental and physical wellbeing by 2030.
More information can be found here.
About Primark
Primark is an international clothing retailer employing more than 65,000 colleagues across 14 countries in Europe and the US. Founded in Ireland in 1969 under the Penneys brand, Primark aims to provide affordable choices for everyone, from great quality everyday essentials to stand-out style across women's, men's and kid's, as well as beauty, homeware and accessories. With a focus on creating great retail experiences in-store, Primark continues to expand across new and existing markets with the aim of reaching 530 stores by the end of 2026, including upcoming new markets of Romania and Slovakia.