Primark Cares
From throwaway plastic to denim fantastic: Primark launches new skinny jeans in partnership with REPREVE Our Ocean®
Skinny jeans are back, but with a more sustainable twist: Primark has partnered with material innovators Unifi, Inc to bring their REPREVE Our Ocean® fibre to its newest denim style. The jeans feature a blend of a unique recycled fabric made from plastic bottles which have been collected from land within 50km of the coastline, one of the biggest sources of plastic pollution in our oceans. At £15/€17/$20/PLN75/Kč440 a pair, the jeans are kind to your wallet, as well as the planet, all part of Primark's ambition to make more sustainable choices affordable for everyone.
Offering a flattering high waist fit with let-down hem, these skinny jeans - available in two classic colourwashes, light-blue and mid-blue - are a seasonless staple for all year-round wear. They will be available in sizes 4 – 20 in selected stores globally from 21st June.
Primark's partnership with REPREVE Our Ocean® is just the latest launch from the Primark Cares label, which features a wide range of products made with recycled fibres or more sustainably sourced materials and marks another small step in Primark's journey to becoming a more sustainable business. It comes hot on the heels of a Primark Cares leisurewear capsule collection in partnership with Recover™, as well as its 100% organic cotton mom jeans certified gold by Cradle to Cradle®.
Director of Primark Cares, Lynne Walker said "We are so excited to collaborate with a partner as trusted and recognised in its field as REPREVE® for this, our latest denim launch. We know that working with new partners to increase our use of innovative recycled materials plays a big role in helping us to expand the choice of fashion and products under our Primark Cares label. This is all part of our goal to help our customers make more sustainable choices, at a price they can afford. Customers should expect lots more to come from Primark Cares in the next few months."
How does it work?
Did you know that most plastic that ends up in oceans is due to human activities near the coast? This is why REPREVE Our Ocean® gathers up bottles found within 50km of coastlines. From there, bottles are ground and melted into pellets before being spun into their innovative polyester fibre. The REPREVE Our Ocean® jeans are made using 33% REPREVE Our Ocean® polyester, which is then blended with 58% cotton, 7% viscose and 2% elastane to create a comfortable stretch fit.
REPREVE Our Ocean® fibre is made by Unifi, Inc, one of the world's leading innovators in synthetic and recycled performance fibres.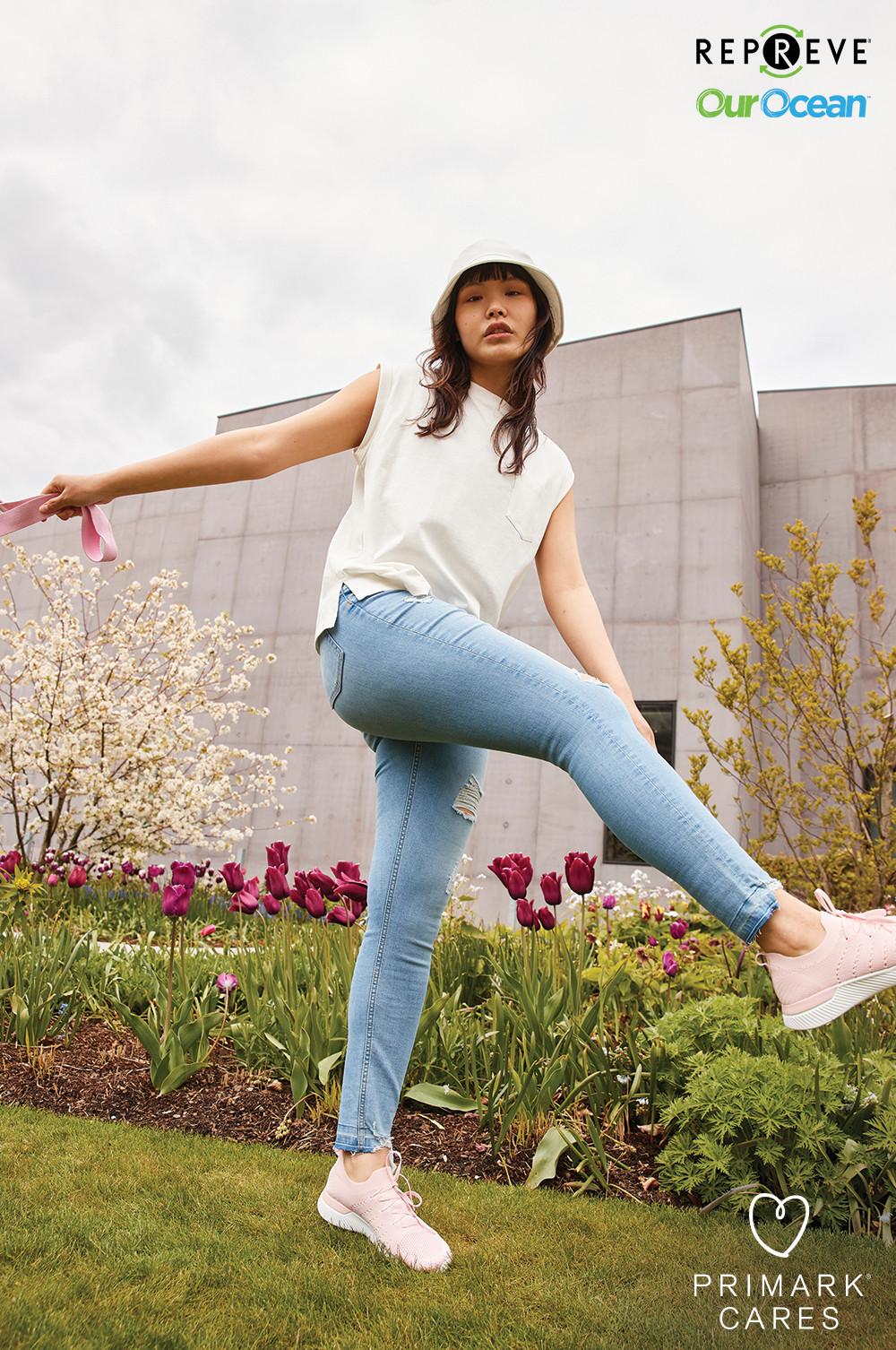 Notes to Editor
Skinny jeans made using recycled plastic bottles with REPREVE Our Ocean®
Two colourwashes: light and mid-blue
Launching in-store from 21st June
Available in stores globally
£15/€17/$20/PLN75/Kč440
About Primark
Primark is an international retailer that offers the latest fashion, beauty, and homeware at the best value on the high street; put simply, Amazing Fashion at Amazing Prices. First established in Dublin in 1969, we currently have over 390 stores, with over 16.5 million square foot of selling space, across 13 countries: the Republic of Ireland, the UK, Spain, Portugal, Germany, the Netherlands, Belgium, Austria, France, the US, Italy, Slovenia and Poland. We employ over 65,000 people and last financial year (FY19/20) we opened 12 stores and created over 2,800 new jobs, receiving over 48,000 job applications.
About Primark Cares
The Primark Cares initiative is a clear and committed statement to our customers, employees, partners and suppliers that we take our responsibility as a large retailer seriously. It's a reminder that we're always investing in ways to support the people who make our clothes and to protect the environment. Primark Cares labels can be found across a wide range of products in our stores. You can also read more about the work we're doing under the 'People & Production' and 'Planet' sections on our website – www.primark.com/en/primark-cares
Sustainability at Primark
Last year, Primark renewed our ambition to accelerate our sustainability goals: As well as committing to removing all single use plastics, we promised to more than double our products made from recycled materials to 40 million. Since then we have been working to increase the use of recycled materials across all product ranges, introducing a new everyday essentials range made from recycled materials across kidswear, womenswear, menswear and homeware. We also announced we would increase the number of sustainable cotton products from our Primark Sustainable Cotton Programme (PSCP) to 60 million items. This was in addition to our previous pledge to train and educate 160,000 cotton farmers on more environmentally friendly farming practices by 2022.
About REPREVE®
REPREVE® is a brand of recycled materials made by Unifi, Inc, a global textile solutions provider and one of the world's leading innovators in synthetic and recycled performance fibres. At Unifi, true innovation starts in the fibre, and REPREVE is one of Unifi's proudest creations – made today for the good of tomorrow.
REPREVE keeps bottles out of landfills and oceans, conserves electricity and water and reduces greenhouse emissions and petroleum use. To qualify for REPREVE branding, fabrics and fibrefill must be certified to contain a minimum of 30% REPREVE by weight of total fabric construction. All fabrics containing REPREVE must be U Trust® certified – verifying that FiberPrint® tracer technology is present and confirms recycled content claims.
REPREVE is more than the world's number-one, branded recycled performance fibre. It's a catalyst for change, partnering in circular economy initiatives and combining sustainability and performance to differentiate your products. When brands choose REPREVE, they know they are part of a movement to protect the land, oceans, air and natural resources they love, for the next generation.